Milam County Historical Commission
Milam County, Texas
Requests for Info
Received via Website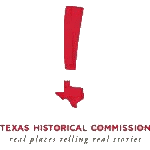 2014-07-24

Kristina Marsh

DessertFirst78664(AT)gmail(DOT)com

15450 FM 112

Thrall, TX 76578

512-5seven6-1nine58

We recently purchased the above property (Thrall Mercantile) and were informed by the previous owners, at
closing time, that the area we own had a merchantile at one time. There happens to be an old, rustic cabin on
our property and we are trying to determine if there is any historical value to it before we make a decision to
tear it down due to disrepair. I saw the article on your site by Joy but no mention of that merchantile. Any
suggestions on how we can determine if the cabin is a type of landmark before it is destroyed? Thank you.

*****

2014-07-29

Ms Marsh, We appreciate your concern about preserving a possibly historic building!

Is the building in Milam County? Whether it is in Milam or Williamson makes no difference but we were just
curious.

I do not have any info for you but I will forward your email to all members of the Milam County Historical
Commission and hopefully someone will have info for you.

Thank you.

Jerry Caywood - MCHC Website Administrator

(email forwarded to MCHC members)

*****

2014-07-29

It is actually in Williamson County.

*****

2014-08-04

Ms. Marsh,

My name is Jack Brooks. Mr. Jerry Caywood was kind enough to forward your inquiry to the MCHC members. I have
the same question that he has, do you reside in Milam or Williamson County?. The reason that I ask that is
because if Williamson, they may have considerably more resources pertaining to their county

I am aware that there is a very short section of FM112 that just barely cuts the extreme S/W corner of Milam
County.I performed a "Goggle Earth" search of your property address and, if correct, it puts it about 1400'
east of FM 486 and the Shiloh Baptist Church on FM 112. That puts it in the general area of the "new" Shiloh
community in Williamson County. There was once an earlier Shiloh community which was just south of present day
Hutto. A Mr. Graham Dickerson, who is 96 years young, is a life long resident of this vicinity. He is usually
my mentor when there are any inquiries in Pleasant Retreat, Gano, Shiloh and Thorndale communities. I
questioned him today regarding your inquiry. After describing your property from Google Earth and also the
street view of your property frontage and gate he said he believed that it was the old Smith property. He said
that he personally had no recollection of a merchantile at that location, at least in his lifetime. He further
stated that there once were two stores at the intersection of FM 486 and FM 112. The last one was the Simmons
store, which he said closed in the 1960's.

An excellent Williamson County early history reference book is "Land of Good Water" (Takachue Pouetsu) by Clara
Stearns Scarbrough. Ms. Scarbrough describes the latter Shiloh as follows: "Shiloh, a small town at the cross
roads of FM Road 112 and FM Road 486 in southeastern Williamson County. An early church and store, both of
which changed locations, formed the beginnings of the town. Shiloh Baptist Church was founded November 2, 1854,
and was located south of the present town at the site of the later Eckman School. There were 18 members of the
charter church(not listed for brevity). It was moved in 1908 to its present site in the Shiloh Community. When
Lemule Egger Laurence came to the community in 1878 he married Louanna Pauline Sample and in later years,
although a member of the Christian Church, assisted in building the new Baptist Church (left out deacons). The
original church probably served as the school, but later when a separate building was erected, also south of
present Shiloh, it was known as Eckman school for a family in the area. Eckman School records have been found
between 1892 and 1949. The small store was last run by Hobson Simmons and it was closed in the late 1960's."
Ref; Texas State Historical Committee, History of Shiloh Baptist Church; Scroggins Scrapbook; interviews
Simmons, Hobbs; Letter E. Laurence; Broadcaster, Jan. 1924; Deeds XLVII,147.

I don't have the experience to advise you of the historical significance of your cabin, but noticing the circa
1854 of the community, I would certainly continue pursuing that idea. I am able to tell you, that if your
cabin should have hand hewn logs as in attachment # 2 and # 3, that I would save it at all cost. The
attachments are from the Milam County, San Andres Post office, 1852-1877, Confederate Post Office 1861-62. It
is currently used as a feed crib and one of the very few remaining vestiges of that community (located on John
and Merle Culp's farm).Good luck with your continued research and thank you for your concern in preserving
Texas's rich history and heritage.

Respectfully, Jack Brooks.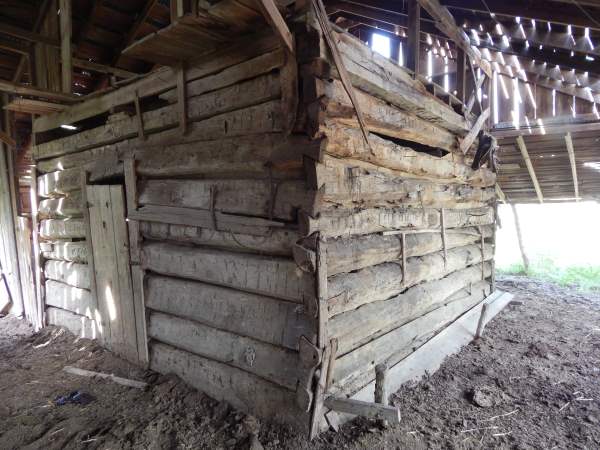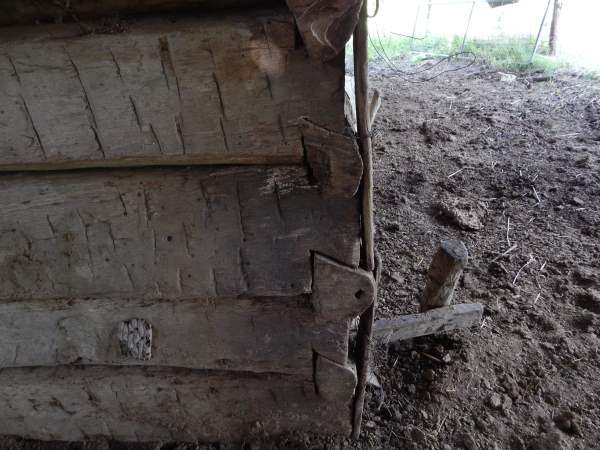 .
Shiloh, TX
Photos by Jack Brooks
**************************************************************************************************

2014-08-31

Shirley McMillan

sjmc(AT)indian-creek(DOT)net

Malcolm Broxton graduated from Rockdale High School in 1918. Mr. Broxton died in 1957 in Uvalde, TX. He
was my superintendent in Asherton, TX. He was a kind and well thought of man. I am writing to see if you
have any records or pictures of Mr. Broxton. He also served as tennis coach in Asherton in which my sister
was involved. He was very important to our household. I want to include him in a book I am putting together
for my sister. Would appreciate any information you may send my way.

Thank you for your time.

Shirley McMillan

*****

2014-08-31

Ms McMillan,

I do find his name in the 1918 graduates of Rockdale High School, but I have no other information on Mr.
Broxton. I will post your info request to the RHS site, the Milam County Historical Commission website, Milam
County Genealogical Society, and to some Rockdale/Milam County sites (facebook, etc). Hopefully someone will
have information for you.

Jerry Caywood

Website Administrator

*****

2014-08-31

Ms McMillan, Here's an old article that you may find interesting and perhaps would lead to photos.

Jerry Caywood

MCHC Website Administrator

*****

2014-09-14

Ms. McMillan, I apologize for the delay in answering your inquiry. I had hoped that a past Rockdale High
School Alumni might have the 1918 yearbook in question. Unfortunately, it appears that it is not available.

I approached the RHS librarian/ archivist to see if the school library might have a copy. Their RHS yearbooks
only go as far back as 1939. It was then suggested that I try the Rockdale Reporter Newspaper Archives.

Next stop, was the Lucy Hill Patterson Library, in Rockdale, which has a complete set of micro-tapes of the
Rockdale Reporter Newspaper from 1899 to quite recent. The thought was that they might have published
graduation photos of each of the students. If you'll note the above attachment, this is the only newspaper
graduation acknowledgement that I found. You'll note the 19 students, one of which is Mr. Broxton. The date of
the newspaper is Thursday, May 16th, 1918, with commencement on Friday may 24th, 1918.

I then spent some time on the Archives site hoping to stumble across a photo in one of the numerous newspaper
articles written about Mr. Broxton. I trailed him from New Mexico, as a teacher thru various federal
censuses'(1930, 1940) to graduation with a Masters Degree from the University of Texas(Austin), in 1940 and
ultimately to Asherton, TX. I had just written a paragraph to you, apologizing for being unable to answer
your inquiry, and wishing you good luck in your endeavor when a last minute thought crossed my mind. I thought
that you might like to see a photo of Mr. Broxton's Headstone. I searched the "
Find a Grave
" web site, and not
only did I find a photo of his headstone, but a wonderful distinguished
photo of Mr. Broxton
himself, in all
his glory. I further noted that the photo was provided by a Mr. McMillan. Am I correct in assuming that you
had the good fortune of locating the photo and possibly your husband or other McMillan family member posted
it?. If so, all's well that ends well. We like happy endings.

Respectfully, Jack Brooks

*****

2014-09-14

Jack, yes I sent in the photo. They made a typing mistake. I am a female and not married. I also sent in a
photo of his son Malcolm I. Broxton 1931-2006 Army veteran to Find A Grave site. He died and is buried in
Arizona.

Malcolm I Broxton Sr. (our Malcolm), 100-1975 is died and buried in Uvalde, TX. If I didn't mention this
before-he was a wonderful man. Thank you so much for the work you did for me.

Shirley McMillan

*****

2014-09-15

Ms. McMillan, Thank you for your kind reply.

Hindsight is always "20-20" as they say. Would it be possible for you to forward a photo of Mr. Broxton to me
so I may forward it to our web master Mr. Jerry Caywood. I would like to see it posted on our MCHC website
along with your inquiry.

Also, I did previously pick up on Malcom I. Broxton Jr. from one of the newspaper articles stating his high
school graduation in, I believe, 1940. Thanks for the additional information. I didn't research it, but is he
also interred in Hillcrest Cemetery in Uvalde?.

You have truly "honored" Mr. Broxton with your research and posts. It's always a pleasure researching
inquiries such as yours.

Respectfully, Jack Brooks

*****

2014-09-15

The first picture (older) I sent is probably not too long before he passed away. (note: this is the picture
from the FindAGrave link above). The one I am attaching was the class of 1944, taken in front of the
Asherton, TX High School. The lady to the right end, front row happens to be my mother. She was the sponsor
for this class. She was also a teacher at the time at the High School. The High School was destroyed years
ago. The only remaining building is the grade school (1st to 8th grade). Sad.

What is the MCHC website? How can I get there? Would love to see Mr. Broxton's post.

Again, thank you for your responses. Means alot to me.

Shirley McMillan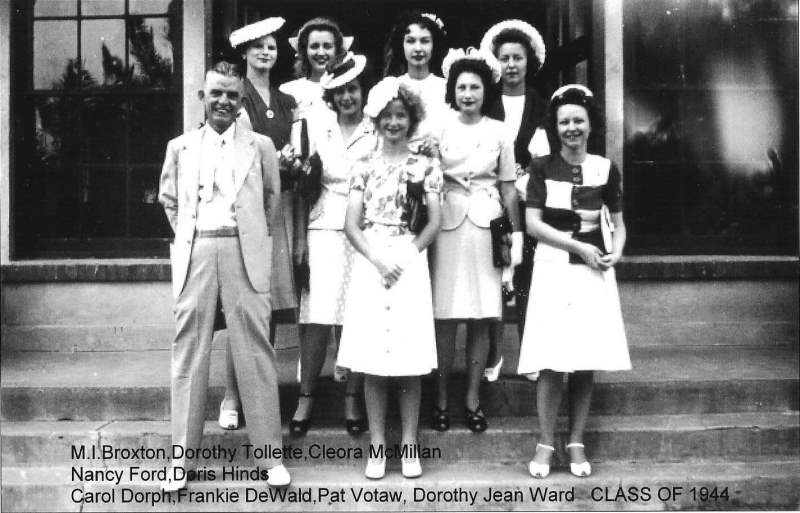 Photo courtesy of Ms. Shirley McMillan
Asherton, TX High School Graduating Class of 1944

Bottom Row: L-R: Malcolm I. Broxton, Dorothy Tollete, Cleora McMillam
Middle Row: L-R: Nancy Ford, Doris Hinds
Top Row: L-R: Carol Dorph, Frankie DeWald, Pat Votaw, Dorothy Jean Ward
**************************************************************************************************

Olivia Parker

olivia.parker2005(AT)gmail(DOT)com

912 Acorn Oaks Drive

Austin, Texas 78745

512-6five3-9nine3seven

My name is Olivia Parker, Secretary of the La Escuelita in Rockdale. I had previously submitted a grant for
restoration at the La Escuelita, but unfortunately we were unable to get someone to work on the project. I
would like to submit another application and hopefully get funds to get the renovation done that is badly
needed at this time. Is it possible to submit another application? If so, when is the due date? Please
submit a response to my request via email or phone call. Thank you for your time.

Olivia Parker

*****

Ms. Parker,

Regarding your Milam County Preservation grant inquiry, I would like to refer you to the following web address
regarding your project, and it specifically states deadlines. In the upper right corner of the first page you
will see a place where you may also download the four page application form.

Unfortunately, I personally have never submitted one, but Mrs. Geri Burnett who coordinates the preservation
grants program, is very familiar with them. I left a voice mail message for her, and should she allow me to
share her telephone # and/ or email with you, I will forward that to you in a PP. She then would be able to
answer any specific or unusual question that you might have.

I have "snail mailed" the two Preservation Grant description pages and the four page application forms to you
should you have any printer issues.

Respectfully, Jack Brooks bjohnr2010(AT)hotmail(DOT)com

2014-10-27
Ms. Marsh,
I had a lengthy discussion this morning with a Mr. Nathan Smith (88 yrs. of age), whose grandparents once owned your property. He is a life long resident of your general community and it appeared to me that he knew it intimately. He is a member of Pleasant Retreat Church, which we also attend.
First off, I'll share Mr. Smith's memories of the cabin. Mr. Smith said that his aunt was living in the Smith homestead in about 1958 when it burned to the ground. A replacement home (your cabin) was purchased and moved to the present location on your property. It was purchased from a Dr. Johnson whose property was on FM 482 approximately south/southwest of Pleasant Retreat Church only on the next road to the south (FM 482). He said that there now is a smaller home on the front of that property with a larger newer home to the rear. He also added that there once was a beautiful log barn deeper on that same property which would have been of historical significance since it was the last of the log structures in the vicinity. It no longer exists for whatever reason.
When I questioned the historic significance of your cabin, he said he believed that it was built about 1928-1930 and was very common construction for the time. First the floor was constructed, then 1 x 12 boards were placed vertically for the walls. The roof trusses were of 2 x 4 construction. Firing strips called G-batts (?) were placed over the joints of the vertical 1 x 12's to seal for drafts. Since it was such popular construction for the time and that there are still many examples of it remaining in the community, he feels that it has little historical or architectural significance. If you will note attachment #3, Mr. Smith said that your property -R006118- and Mr. Emmons property -R473502- were once one parcel of property owned by the Smiths. Back to #3, the square with the 'X' was the Knight General Store (Country Store) and Post Office. I failed to ask when it closed or was removed. On the north side of FM112 opposite the Emmons property was the Hobson Simmons General/Country Store (marked with a box with a circle in it). It was on what is now the Riger property - R305998. In summation, at one time, when your property and Mr. Emmons property were both owned by the Smith family, there might have been a small out-parcel where the Knight General Store/Post office was located. Possibly it was even leased and still Smith property. To steal a recent quotation from Mike Brown, Editor of the Rockdale Reporter: "The answer is lost in the mists, currents and eddies of history". Should you have any further questions please reply to this email. Let me know if you would like to talk with Mr. Smith and I will forward his telephone # with his permission. A sincere 'thank you' to Mr. Nathan Smith for taking the time to share his family heritage and knowledge of the community with us.
Respectfully, Jack Brooks
*****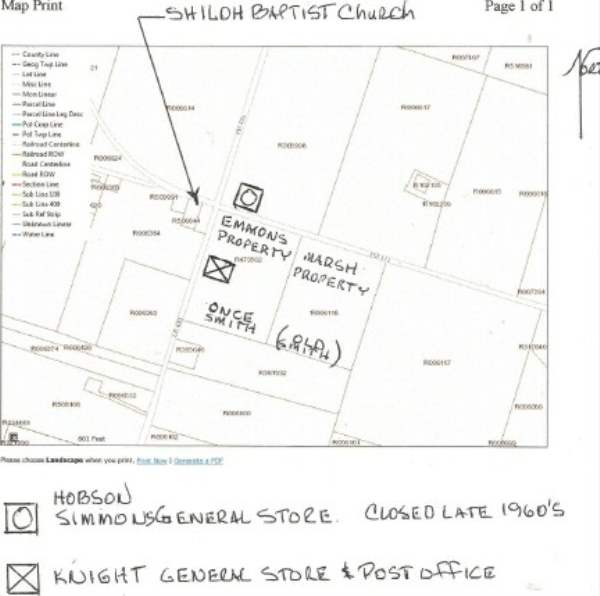 #3
2014-10-29
Mr Brooks, Thank you so much for such a valuable background on the building, property and area. Though it may not be of general historical significance, it's still important to preserving the area history, for us.
We may hope to speak with Mr Smith in the near future, as there is a donkey on the property we are trying to gather history on.
Please feel free to share our contact information with Mr Smith and we will hope to chat soon.
Sincerely,
Kristina Marsh
DessertFirst78664(AT)gmail(DOT)com
15450 FM 112
Thrall, TX 76578
512-5seven6-1nine58