History lost in act of vandalism

Vandals may have accomplished what

164 years of Texas weather could

not. The final authentic pieces of

Old Nashville on the Brazos, a

long-forgotten town that was once

considered for the capital of the

Republic of Texas, were heavily

damaged at an unknown time last

month at a tiny roadside park on

US 79 just west of the Brazos

River bridge. The park contains

two granite markers commemorating

the town, which flourished from 1837

to 1845, and until last month also

held a triangular structure constructed with the last remaining stones salvaged from the
actual buildings of Old Nashville.

That marker was toppled by a vandal, or vandals, reducing most of those century-and-a-
half stones to rubble.

The granite monument erected by the Daughters of the American Revolution (DAR) in 1936
was also toppled. That monument did not break and is expected to

be restored.

The jury is still out on whether any of the original building stones can be salvaged,
local historian Joy Graham told The Reporter.

The vandalism incident is being investigated by the Milam County Sheriff's Department.

Old Nashville was once the headquarters of Sterling C. Robertson's original Texas
colony.

Rockdale Reporter, March 11, 2010

Site of the Town of Nashville
and
DAR Centennial Park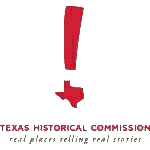 Site of the Town of Nashville

Surveyed in the fall of 1835 as the capital of
Robertson's colony.

Named for Nashville, Tennessee where Sterling C.
Robertson and many of his colonists had formerly
lived.

Seat of Justice Milam municipality, 1836; Milam
County, 1837.

First home in Texas of George C. Childress, chairman
of the committee who drafted the Texas Declaration
of Independence.

US79 5.0 miles East of Gause, TX

DAR CENTENNIAL PARK

In 1936 The Sarah McCalla Chapter DAR of Cameron
created a park (about 3/4 mile upriver) to
commemorate the Texas State Centennial.

The red rock DAR Monument to the left was in that
park which is now inaccessible.

Sterling C. Robertson who was buried in the Old
Nashville Cemetery was moved to the Texas State
Cemetery in Austin in 1935.

This Park commemorates the Centennial of the
National Society Daughters of the American
Revolution 1890-1990.

Erected by the Texas Society DAR - 1991

.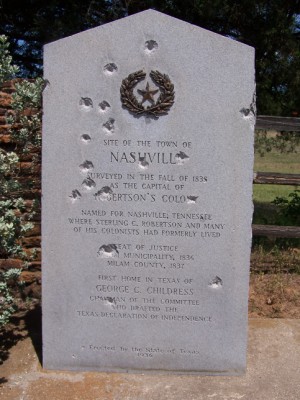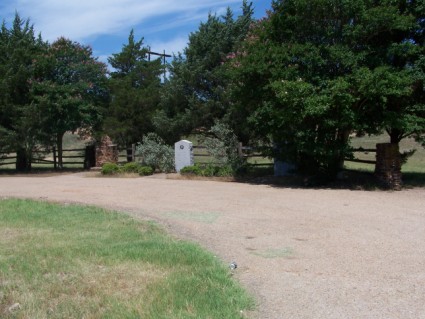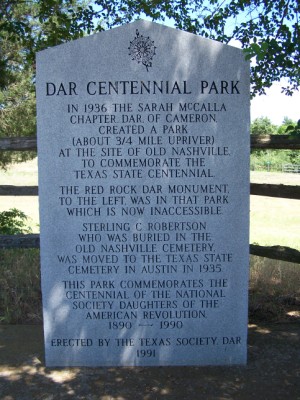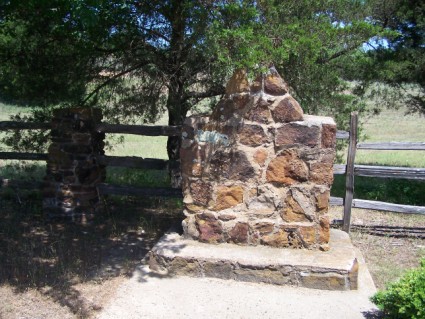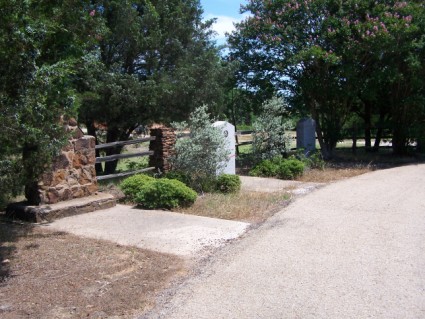 Markers as seen from US 79

Rubble is all that remains
of 160-year-old building
stones (behind overturned
pillar in foreground) after
Old Nashville vandalism.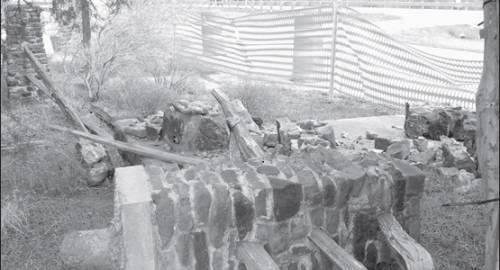 Photo credit: Mike Brown, Rockdale Reporter