Milam County Historical Commission
Milam County, Texas
Sugarloaf Mountain

From Gause: FM 2095 North to CR 264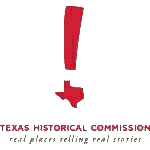 "Sugarloaf Mountain is located near the confluence of Little River and Brazos River and is capped with red sandstone rock. A large American Indian group lived in a village known as Rancheria Grande de los Ervipiame. Remnants of twenty-two nations comprised the group, but the Ervipiame were the dominant members. Some of the Ervipiame later entered the San Antonio missions, but most joined the Tonkawa, Mayeye and Yojuane tribes.

Early American settlers learned of the indian trails and used them when traveling. Sugarloaf Mountain was an important landmark on the old road system, later identified as part of the El Camino Real or "The King's Highway," and was used until 1790. During the 1820s, a similar route was used that traveled from San Felipe to the Waco Indian village, which later became Waco. In 1866, Texas Governor J. W. Throckmorton sent a letter to the Department of Indian Affairs granting the Tonkawa people a league of land in the area, but they were already relocated to Oklahoma in the 1850s and never received their land. Developers James Jackson and Jon Holloway purchased the land that contained Sugarloaf Mountain which they divided and resold. During this time, the top of the mountain was removed because it was believed to hold treasures but after public outcry, the digging stopped. The mountain is recognized by Milam County, the State of Texas and the National Parks Service as an important landmark. Many from the Tonkawa Native American tribe believe that Sugarloaf Mountain is the site of the origins of their people. In 2004, the El Camino Real de los Tejas was designated as the first National Historic Trail in Texas. (2012)

Marker is property of the State of Texas"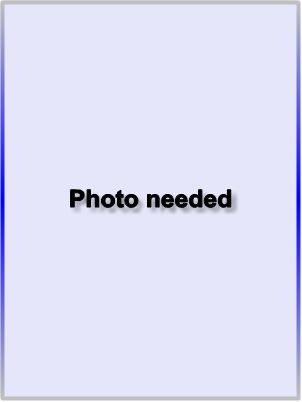 Dedicaton Ceremony opening remarks by Joy Graham:

This mountain is well known to Milam and surrounding county residents. It is privately owned. It is not open to the public; however it can be viewed from various spots along County Road 264.
From 1700 to 1720 this area was known as "Rancheria Grande de los Ervipiame. Diego Ramon stated in 1716 this area consisted of approximately 2,000 people. Alvarez y Barrero's map revealed that the Rancheria Grande in this area was made up of the remnants of 22 nations that had been broken up by the Apache. The Ervipiame were dominant members of this group. Two tribes from this area, Ervipiame and Tonkawa Indians were known to have existed here, and also at the San Xavier Mission sites west of here. In the last decades of the 1700's, the remaining Ervipiame were absorbed by the Tonkawa people.
An ancient system of trails used by Native American crossed both Little River and Brazos to the north of Sugarloaf area. Sugarloaf Mountain was an important landmark on the old road system and today stands valiant as a highly significant area on El Camino Real de los Tejas National Trail valiantly withstanding time.
In the 1820's Moses Austin and son Son Stephen followed by Robert Leftwich and Sterling Clack Robertson traveled through this area up to what we know today as Waco. The road was referred to "The Kings Highway" and today it is a National Trail - El Camino Real de los Tejas.
The Tonkawa Native American Tribe Legend tells how the "Sacred Red Mountain" had a cave near its summit and was situated near a river and was a place of creation of their people. They called it La Tortuga or the Turtle. Some consider it to be a highly scared place.
In 1994, the president of the Tonkawa Tribal Council traveled from Oklahoma to Texas. These native visitors visited with local and State officials to recognize this mountain as part of the "Native American Graves Protection and Repatriation Act". News media did carry the Tonkawa message – it was their hope that this mountain would become a Park. However, it remains under private ownership and is not open to the public without owner's permission.
Today marks an important day for Sugarloaf Mountain. Even though a past owner dug for Spanish Gold, removing the cap of both peaks at the top, this mountain stands sentinel to land and river bottom recounting legends of the natives who fashioned beads from red rock, it was location of religious ceremonies held atop the mountain and of Spanish soldiers and missionaries making their way across Texas to East Texas Mission Sites.
Rest in peace, you have finally been recognized by the community, the County, the State of Texas and now by our National Government as a "Highly significant site on El Camino Real de los Tejas National Trail.

Joy Graham's opening remarks at Marker Dedication Ceremony - October 26. 2013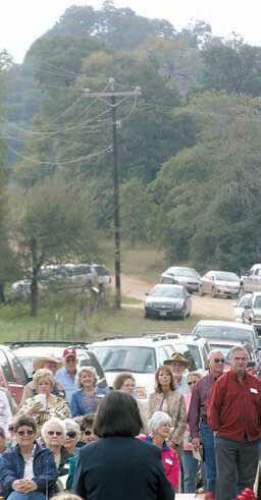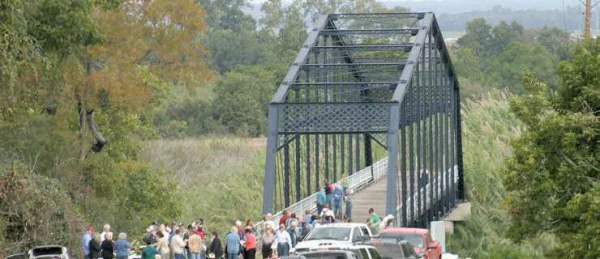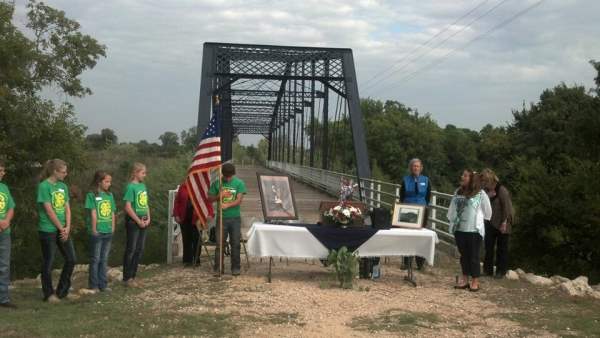 Above: A large crowd gathered under Sugarloaf - a prominent bluff on the Little River near Gause.
Above: Historic bridge, now open only to foot traffic over the Little River, was dramatic backdrop for Sugarloaf dedication ceremony.

Left: Jackie Thornton was mistress of ceremonies at the morning ceremony which included a number of area residents including the "mountain's" current owners. Others on the program included: Gause 4-H club, posting of colors and pledges to American and Texas flags; Kelly-Lee Cooper, national anthem; Rev. Kenneth Byrd, invocation; Pete Lawson, state song; David Kaufmann, benediction; Brown, Burnett, Graham and Dr. Estell.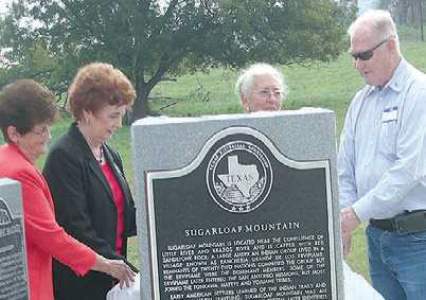 Left: Gause-area residents Mary Neely, Elaine Baumann, Darlene Anglen and Robert Gaston did the honors at Sugarloaf Mountain
Photos by Mike Brown - Rockdale Reporter
Photo by Geri Burnett
Photo by Mike Brown - Rockdale Reporter
Honoring the past. That's what Saturday was all about as Texas Historical Commission markers were dedicated at Apache Pass and Sugarloaf Mountain. At left, Joe "Two Feathers" Ochoa, who has Apache blood, was one of three Native American reenactors on hand as Apaches "returned" to Apache Pass for the day. At right, a large crowd gathered under Sugarloaf—a prominent bluff on the Little River near Gause—for another marker dedication. Both venues are on the El Camino Real Historical Trail

Marking History at the Pass, Mountain

Texas Historical Commission markers at Apache Pass, and Sugarloaf Mountain near Gause, were unveiled in well-attended ceremonies organized by the Milam County Historical Commission.

Both sites are key "places of interest" on the El Camino Real (ECR) National Historic Trail.

Thornton was mistress of ceremonies at the morning ceremony which included a number of area residents including the "mountain's" current owners. Others on the program included: Gause 4-H club, posting of colors and pledges to American and Texas flags; Kelly-Lee Cooper, national anthem; Rev. Kenneth Byrd, invocation; Pete Lawson, state song; David Kaufmann, benediction; Brown, Burnett, Graham and Dr. Estell.

History: Sugarloaf has a Native American past. It was near the site of a large Native American village known as the Rancheria Grande and was an important landmark for settlers who came streaming into the area that would later be known as Milam County.

Rockdale Reporter - October 31, 2013