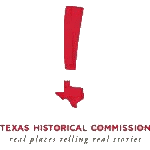 Miscellaneous Photos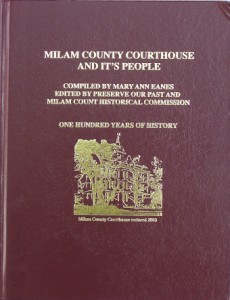 "Milam County Courthouse and its People"

Compiled by Mary Ann Eanes

Edited by Preserve Our Past

and

Milam County Historical Commission

Click
HERE
to order your copy today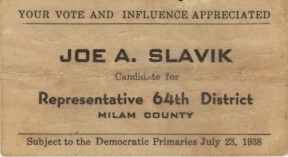 Card from Joe A. Slavik

Candidate for Representative 64th
District

Democratic Primaries

July 23,1938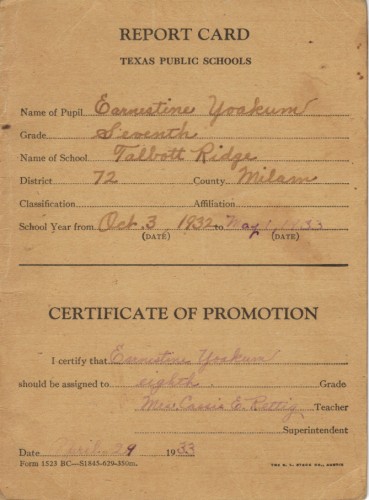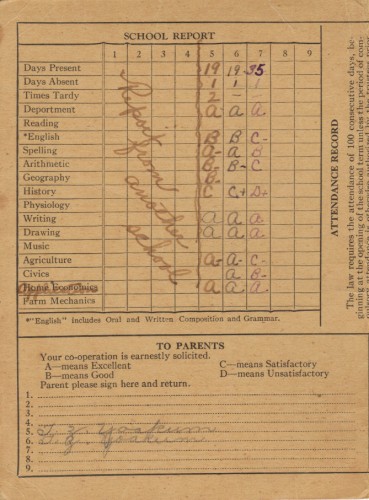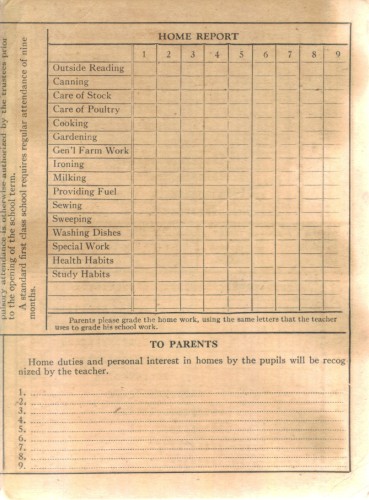 Talbott Ridge School Report Card for

Ernestine Yoakum dated April 29, 1933

Signed by Mrs Cassie Rettig, Teacher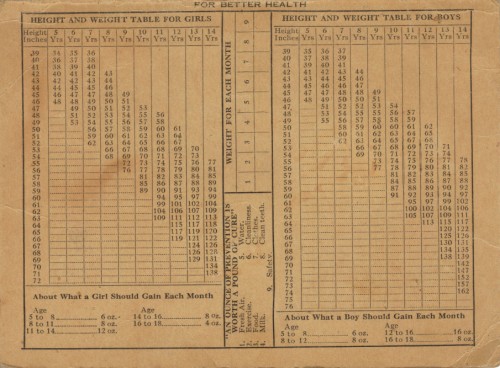 Note the items on the Home Report to the left:
Canning, Care of Stock, Care of Poultry, Cooking,
Gen'l Farm work, Milking, Providing Fuel, Ironing...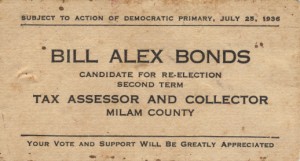 Card from Bill Alex Bonds

Candidate for Re-election

Tax Assessor and Collector

Milam County, TX

July 25, 1936

National Currency issued by

First National Bank, Rockdale, TX

The Rockdale Reporter

May 10, 1934

Bill Alex Bonds is Candidate for Tax-Assessor-Collector

The many friends of Bill Alex Bonds will be interested in finding his name in the
Reporter's announcement column this week as a candidate for the office of assessor and
collector of taxes in Milam County. His candidacy is based, of course, upon the
action of the democratic primary, July 28.

Bill Alex Bonds needs no introduction to Reporter readers. He is really 'home
folks' to all of us, and can probably call by first name as many or more citizens of
this bailiwick than any other man in Milam county. He is a native of the county -
born and reared with Milam county sand between his toes, and Milam county sunburn on
the back of his neck.

As a democrat his record is perfect, for he has 'voted the straight ticket' all
his life, and fought the battles of democracy since his young manhood. His record as a
man, a citizen and a neighbor is likewise clear, his integrity is of the highest type
and his personal and public life beyond reproach.

Mr Bonds has had previous experience in tax matters, having once held the office
of tax collector. He is thoroughly acquainted all over the county, knows the problems
of the office to which he aspires, understands renditions and land values as probably
few men do in this county, and is in every respect thoroughly qualified to give the
people of Milam county a fair, just and equitable administration. It is his intention
to make an active canvass, renewing old acquaintances and making new friends, between
this date and the primary election, and he cordially solicits the support of all the
voters, promising them his strict attention and full time to the duties and problems
of this newly-created office, and prompt and courteous attention at all time.

Rockdale Reporter - December 31, 2006

Keepsake: Herschel McCoy of Thorndale came
across this keepsake while sorting through
some family mementos. It's a souvenir card
dated 1906-07 from the High Prairie Public
School, which was located somewhere in the
vicinity of the present Alcoa plant site,
possibly toward the Salty community. The
photo is of Ellie White, the teacher at
the school. School Board members were
John W. Jackson, (Herschel McCoy's
grandfather), J. C. Howe and T. A. Caffey.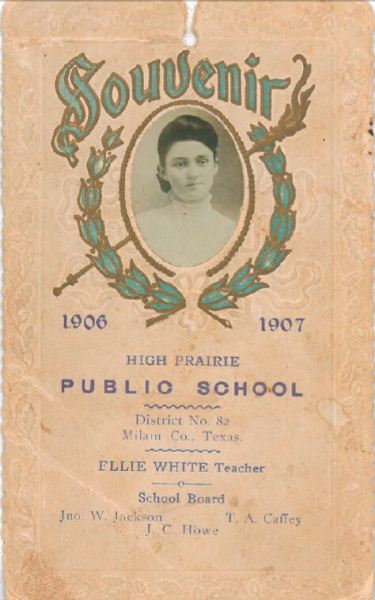 Rockdale Reporter - January 11, 2007

Member Emeritus - At its December meeting,
the Milam County Historical Commission
voted to make Mrs. Helen Perry of Rockdale
a "Member Emeritus" of the Commission.
The award was presented to her by Judge
Frank Summers at the Monday meeting of the
Commissioners Court. Mrs. Perry has been
active in historical preservation locally
for years, working on everything from the
I&GN Depot acquisition and restoration to
the historical marker for Matinee Musical
Club.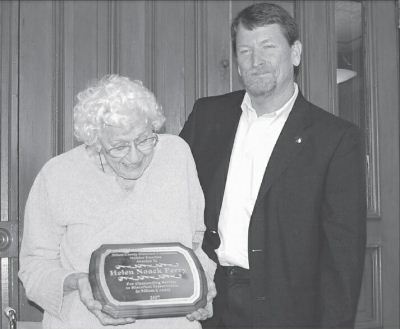 Photo by Dr. Lucile Estell
.