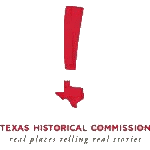 NEWS
Milam Historical Panel Receives State Award

by Jeanne Williams - Temple Daily Telegram

June 30, 2011

It's 19th time for the group to receive the honor

CAMERON — Amid the perpetual tasks of keeping Milam County's sites, stories and events
of yesteryear from being erased by time and progress, county historical commission
members recently took a brief pause to accept their 19th consecutive state Distinguished
Service Award.

Milam County was among 72 counties — including Bell, Brazos and Lampasas counties — to
be recognized with the award and among those that consecutively earn the designation for
marked successes in local historical commissions' projects, said Texas Historical
Commission spokeswoman Debbi Head.

"It is not unusual" for a dedicated county commission to be awarded repeatedly, "which
is commendable," Head said.

The group was recognized by the Milam County Commissioners Court on Monday.

The state Distinguished Service Award is given each year to county historical
commissions that document exceptional service and dedication to the preservation of
Texas.

Dr. Lucile Estell, county historical commission publicity chairman, said "no particular
project" qualified the group for the 19th award.

"We do have the name of being a very active commission because we meet six times a year,
actively pursue historical markers, and we have an active Certified Local Government
Program, which helps mark historical sites in Milam County," Estell said.

Milam County members believe the Preservation Trust Fund, in which the commission awards
grants for specific community projects, is instrumental in achieving the award, Estell
said.

Additionally, the local group works actively with the El Camino Real de Los Tejas Board,
attends state historical commission meetings and organizes activities emphasizing
archaeology month, including a public meeting and program for every Milam County fourth
grade class.

jwilliams@tdtnews.com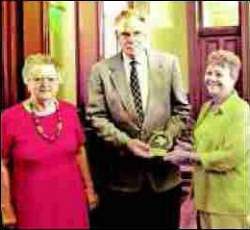 Dolores Mode, Dave Barkemeyer and Geri Burnett
hold the Milam County Historical Commission's
Distinguished Service Award.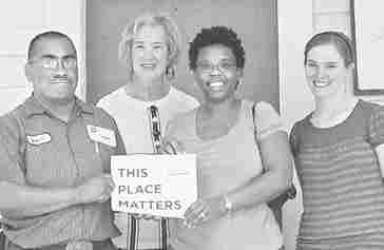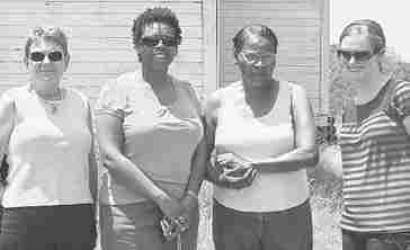 HISTORIC—Representatives of the National Trust For Historic Preservation were in Milam
County recently touring two sites important to the history of minorities in Milam County.

At left is La Escuelita, a former Hispanic school just east of Rockdale. From left are
Robert Zapata (representing La Escuelita), local historian Joy Graham, Leah Brown and
Sarah Tuey of the National Trust.

Right photo, the former Rosenwald School for African Americans at Davilla. From left,
Geri Burnett, county historical commission, Brown, Eileen Gadison of the Davilla
community and Tuey. Graham said minority sites are 2011 priorities for the National
Trust.

Rockdale Reporter - June 30, 2011

They're the best

Rockdale Reporter - July 7, 2011

The Milam County Historical Commission has received a Distinguished Service Award from
county commissioners and it's not something new. The commission has now received the
award for 19 consecutive years. Accepting for the commission were Geri Burnett of
Rockdale (R), chairperson, and vice-chair Delores Mode of Cameron.

County Judge Dave Barkemeyer made the presentation at the Milam County Courthouse.

Photo courtesy Dr. Lucile Estell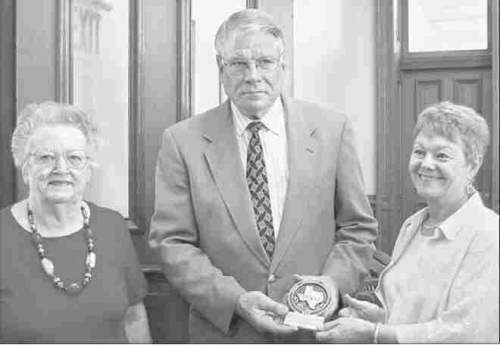 MAKING HISTORY

Rockdale Reporter - July 7, 2011

The Linwood Acres Garden Club has
donated $250 to the I&GN Historical
Depot, a project of the Rockdale
Historical Society. Billie Noack and
Mary Phillips, representing the garden
club made the presentation to historical
society representatives.

From left are Noack, Dave Phillips, Mary
Phillips, Gary Jackson and Pat Jackson.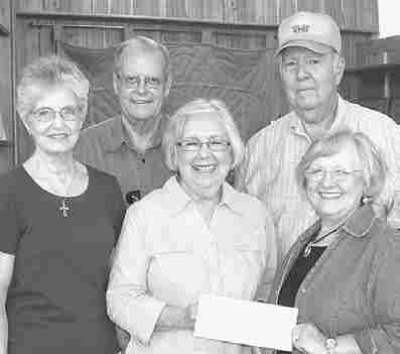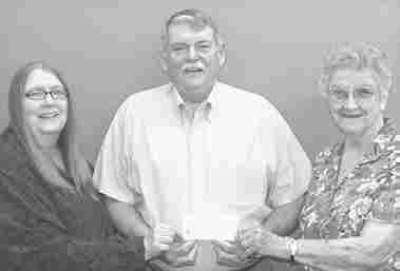 FOR THE KAY — The New Salem Extension
Educators Association Club recently
donated $200 to the Kay Theatre
Foundation. Debbie Konarik (L) and
Lizzie Lucas made the check
presentation while Les Davenport
accepted for the foundation.

Genealogy Workshop

Presented by Lynna Kay Shuffield

Topics: Genealogy Research Techniques

American Revolution - Civil War

An genealogy seminar featuring Lynna Kay Shuffield will be held from 9 a.m. until 3 p.m.
Saturday, Aug. 20 in the Genealogy Center in the Lucy Patterson Memorial Library in
Rockdale.

Registration will begin at 8:30 a.m. with a fee of $5 per person. Those wishing to
attend, including MCGS members, should call Marie Hubert at 446-3937, or email
mhubert@swbell.net.

Pre-registration is required by Aug. 9.

Wi-fi connections are available at the library but limited to the first 15 to register
with the request to bring a laptop. Visual aids and handouts will be used, so laptops
are not necessary.

Linda Whorton, publicity