Info rec'd via website:

2013-06-30

Beverly Dizzine

Beverlyrmt@sbcglobal.net

My husband, Ralph and I live on the property where Sand Point Cemetery is located. This cemetery is in very
poor condition - we have been working on it but wondering if anyone can help us out. We are also looking for
a list of people that are buried there or any information anyone can give us regarding the cemetery.

*****

2015-05-08

Hello, Mrs. Dizzine.

My wife, Beth,and I visited Sandy Point Cemetery today, thanks to the kindness of Mr. Burgess's directions.
You had written that the cemetery was in very poor condition in your email. You may find this difficult to
believe, but we found it to be in remarkably good condition compared to many of our rural Milam County
Cemeteries. It was obvious that a considerable amount of time, effort and expense was incurred for the
cemetery to be in this kind of condition.

On behalf of the Milam County Historical Commission and the Milam County Genealogical Society, we sincerely
thank you, and those involved, for their efforts in preserving this historic rural Texas cemetery.

We found an excellent new perimeter fence surrounding a considerable portion of the seven acre cemetery. All
fallen trees had been removed, the grounds had been mowed and only needed string trimming. On the southern
end of the cemetery we noted the beautiful Burgess family plot with benches and chair seating. It was very
apparent that the Burgess family held their departed members in very high esteem and that this was a place to
visit, meditate and reminisce.

Returning to the northern portion of the cemetery, we noted Louisa and her son George W. Beard's family
plots. Their historic Beard Rock Home, a short distance away and now owned by Dr. Donnie Hamilton, is one of
Milam County's tourist treasures. Personally, I was curious where Louisa's Beards husband, the CSA veteran,
C. C., was interred. He died shortly after returning home from the war. I was unable to locate him in this,
or any other, Milam County cemetery referencing 170 Years of Cemetery Records In Milam County, Texas.
Possibly he was interred in one of the many stone marked paupers graves?.

Also noted, were a number of other CSA veterans whose interments were acknowledge with a posted CSA flag. D.
L. Lagrone' even had a Medallion and an Iron Cross. Sarah Ann Adams Lagrone's "Daughters of the Republic of
Texas" 1836-1846, Medallion was posted prominently.

The Ferguson's, Louisa Beard, John and Mary Graves and Uriah Thweatt had either wrought iron or chain link
fencing surrounding their plots. Your request for a list of people interred, was given to Mr. Burgess while
I visited your home this morning. Mrs. Norinne Holman visited the cemetery on April 4th, 1999. That field
inventory and death records were matched up or added when necessary. I'm able to relate to your maintenance
issues since this is a large cemetery in size and the interments aren't in a reasonably compact location.
Your plight is one that we commonly hear when folks, like yourself, take charge of a cemetery improvement
project. Sand Point is not a candidate for community service assistance(fall- time) due to it being on a
private road and not directly off a visible county roadway. Their logic is that it needs to be readily
accessible by the public and that they may also see their tax dollar at work. What I might suggest, is to
attempt to contact descendants still in the community. For example, I see four beards Listed in the Milam
County Red phone book for Rockdale alone. It lists four Lagrone's residing in Milano. Possibly an
advertisement in the Rockdale Reporter and listing the family names for a cemetery workday. I have had
marginal success by doing that. Jerry Caywood, our website administrator, would probably be happy to post it
to our website as well. That would be limited exposure. Respectfully, Jack Brooks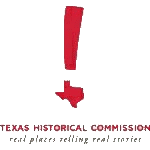 Family names: Adams, Beard, Brooks, Darnell, Drehr, Dykes, Ferguson, Ford, Graves, Hovis, Kohut, Lagrone,
McDonald, Meyer, Nelson, Schraeder, Springer, Thomas, Thweatt, Wood, Youngblood...

Driving Directions; From the intersection of US Hwy 79 and State Hwy 36 in Milano, take Hwy 36 south for three
and four tenths mile. You will see a pipe stand with five mail boxes on your right. That dirt road is PR 7056.
Turn right and proceed down that road for approx. one half mile. It will make a ninety degree turn to the left
along the way. When you see a pond on your left, turn down the dirt road to your right and proceed 0.35 mile
until you reach the cemetery on your left.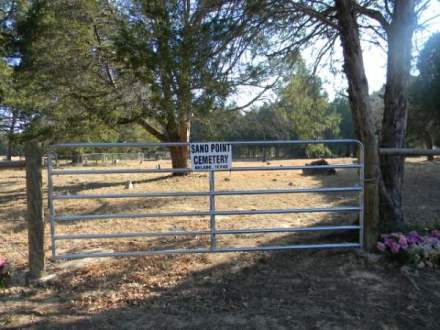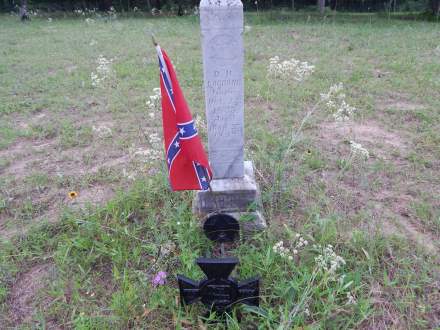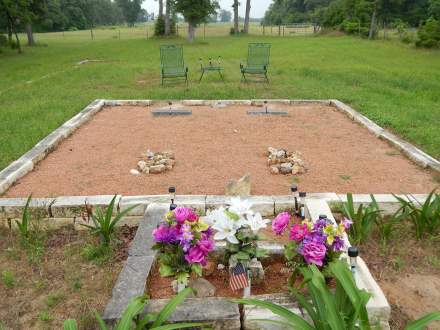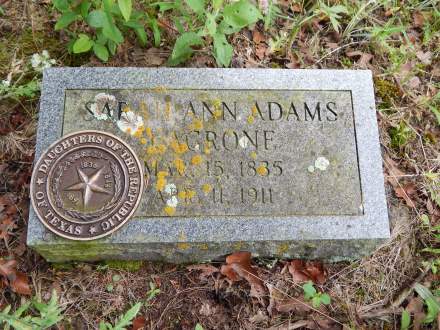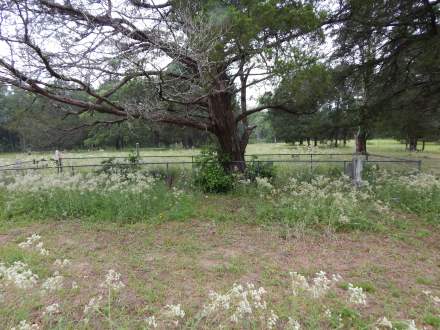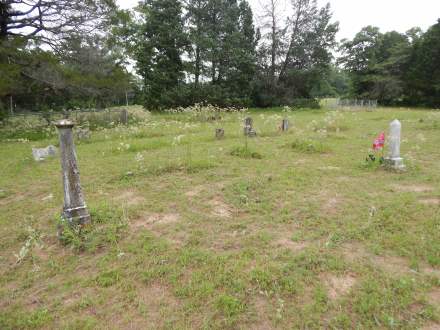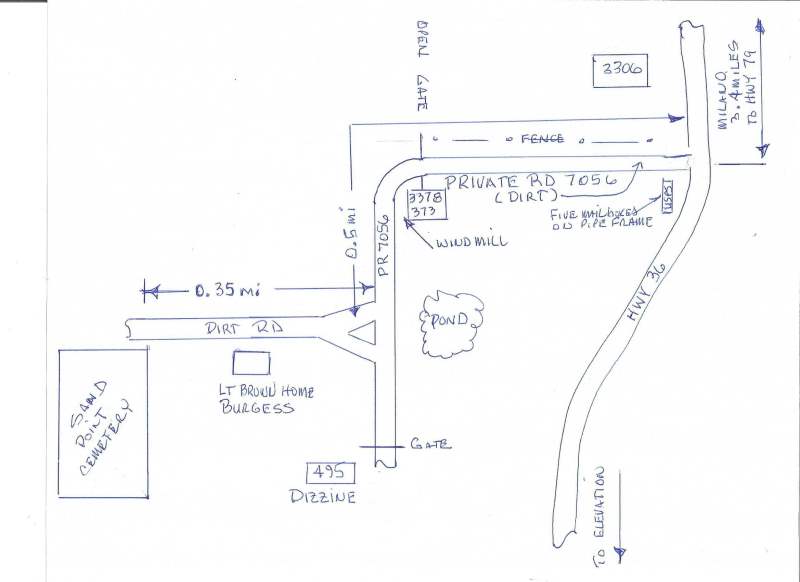 Photos courtesy of Jack Brooks
2015-05-10
Mrs. Dizzine, I inquired about C. C. Beard's (Coleman Campbell) interment location to Ms. Peggy Wright, who has an extensive knowledge of Milano. She also has excellent research skills. Here is her reply:
Jack,I couldn't find C C Beard's grave. In 1909, Louisa was petitioning for a civil war pension. I'm guessing his is one of the unmarked ones. The family could apply for a civil war veteran's stone. My cousin did that for our great grandfather. Below is what I have on him.
Coleman Campbell Beard. When Coleman Campbell Beard was born in 1833 in Illinois, his father, Samuel, was 28 and his mother, Sara, was 26. He married Louisa America Stratton on October 6, 1851, in Columbia County, Arkansas. They had six children in 13 years.
He died on September 14, 1867, in Milano, Texas, at the age of 34. I, too, believe that he is represented by one of the many piles of pauper stones at Sand Point.
An additional web reference;
http://trees.ancestry.com/tree/28418193/person/12040867532
You're probably very well aware of the following website, but if not, I think that you'll enjoy it.
http://www.lksfriday.com/MILAM/milam-913a.htm
Mr. Basil McGregor did a wonderful job researching this information. I always like tying the interred to their earlier active days in the community.
Here are a few 'snippets' from the above reference;
"Since the coal burning locomotives used considerable water the Santa Fe had a deep well, pump and storage tank at Milano. They also had another water pump and storage tank at Sand Point. This was about half way between Milano, and Elevation. This pump was operated by G. W. Beard; the Milano pumper was W. H. Williams". (keep in mind that the Santa Fe tracks are only 500' west of the cemetery so that tank/ pump would probably have been a short distance north or south of there).
"Dr. Uriah Thweatt owned and operated a Cotton Gin near Old Sand Point Church before 1900. Some Old Settlers that live at Milano, at this time recall hauling seed cotton to this to be ginned".
"The single story brick building owned by Joe Fowler was occupied for a time by Harvey Furniture Store, a branch of Harvey Furniture Co., Caldwell, Texas. Guy Mullins was Manager of the Furniture Store.
After Harvey closed out at Milano, J. C. Beard operated a Grocery and Feed Store in this building".
"Oxsheer Smith was not a director when the state bank was organized, however he was a director at the time the bank was taken over by the Citizens National Bank. The other directors at that time were J. O. Newton, W. O. Newton and C. M. Beard".
"Milano, Rebekah Lodge No. 465 was instituted Nov. 5, 1915. The first report we have of that lodge is for the period January-June 30, 1916. The first Noble Grand (same thing as club President) was Nell Newton. Officers listed on June 30, 1916, report were Pearl Hillard, Noble Grand; Elonia Brown, Vice-Grand; Mary Peeples, secretary; Ophelia Newton, Treasurer.
The lodge had 28 members. In addition to those named the sisters were Sallie Fisher, Louella Grady, Claudie Hudson, Mittie Haddox, Maud Hairston, Rhoda Long, Ruth Newton, Maggie Ruby, Jennie Williams.
The brothers were J. C. Beard, C. M. Beard, J. D. Carmichal, T. B. Fisher, J. D. Grady, G. W. Hillard, H. K. Haddox, E. H. Hairston, Walter Newton, W. E. Peel, J. D. Ruby, J. N. Suttle, J. N. Touchstone, W. H. Williams. The lodge met on 2nd and 4th Tuesday at the Odd Fellow Hall".
I photo-documented every legible headstone in Sand Point and added them to Ms. Vickie Pounders narrative entries to the Find a Grave website. We thank her for her kindness in taking the time to do that for the benefit of the interred ancestors. There were four headstones that I either overlooked or have vanished since 1999.
Should you decide to have a cemetery workday in the future, please let me know, because my wife and I would be happy to assist.
Sincerely, Jack Brooks.