Milam County Historical Commission
Milam County, Texas

All credit for these articles go to
Susie Sansom-Piper and
the Rockdale Reporter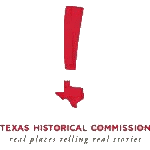 FIFTY YEARS HENCE, PART 3
Memorable Encounters at School, Church
by Susie Sansom-Piper
Rockdale Reporter - 2017-02-16

My 41-year teaching career began during the second semester of the school year of
1943-44.

I was not really prepared in a way, and then again, I guess it was really a spirit
of fear. I had only completed 2-1/2 years of college work and began teaching on a
two-year certificate.

My entire school years prior to my college training had been at this school.

I was a hometown girl returning to my "old stomping grounds," so to speak, and I had
been informed that the teachers from out-of-town were preferred.

However, this was an emergency, for the teacher before me had resigned to return to
her hometown to teach.

During early years, a teacher had to be a "dual" individual, so I inherited the
position as a third and fourth grade instructor and handled all of the music activities.

I never doubted my ability to teach, but my musical knowledge was limited to my piano training in high school, my serving as a church musician, and an accompanist for
choral activities in college. However, this paid off.

Within the next two months, interscholastic league competition would be held in the county. My job was to train male and female vocals consisting of solos, quartets,
octets, and piano solos.

The question came to mind, "What am I going to do? I don't know who can sing." A rehearsal schedule was not included in daily work, so you had to rehearse during the lunch hour, recess time or after school.

I solicited volunteers. There was a great female response, but only one male volunteered. His name was Glen, who was a senior. When I mentioned his name to teachers who had
taught him, they gave little hope and encouragement.

They replied with such statements as "Why waste your time fooling with him? He's dumb! He's barely average! He'll never learn. He's just a little country boy who just moved
to town."

Nevertheless, he had a willing spirit, and he was my only male volunteer. The state UIL also sent a list of songs to choose from according to the classification of the school. We chose "Danny Boy."

I schooled myself in the dynamics of singing and the judging of musical events, and I prayed fervently for success.

Glen was a dedicated and positive student. He practiced at any free given moment. He
won first in county and district and went to state.

To everyone's surprise, Glen was the gold medal winner.

Glen had taught me a valuable lesson which carried me throughout my teaching career.
He taught me to believe that within every student there is a hidden talent to develop, and that we only need to have patience, dedication, love and a belief.

Glen enrolled at Samuel Huston College in Austin, majoring in chemistry. He earned
a bachelor of science degree, became an assistant in a laboratory, went on to the
armed services, and earned a master's degree at the University of Minnesota.

Later, he became the first black to be hired in his field in the Houston Energy Department.

He went on to received a doctorate in chemistry, and was immediately recruited as
an aerospace scientist with NASA at Kelly Air Base in San Antonio, working in this
field until retirement.

He wrote many scientific papers, became an inventor, and was inducted into the National Hall of Fame for Inventors.

Glen is the student who stands foremost in my mind, for through him, my ability to
become a dedicated teacher and to be able to endure post-integration and integrated
years of teaching, came from his overall attitude.

He also left a lasting impression for me...one that always said: "Never place a label
on children, but search for their best."

To all young people, I'll gladly say, "Don't be afraid to stand up for the beliefs
that you know are right, and stay away from people that you know are doing wrong.

"Don't be concerned with what people say about you, because you are trying to do the right thing. Just be happy, and you will be more successful in life."

'JOE D'—I met "Joe D" at a church service. He had just been released from TDC. His plight, background and desires were the same as others that I had interviewed or heard from.

He cited disobedience to his parents, and "just wanting to do things his way" caused
him to get into trouble with drugs and spend several years in prison.

He says: "I have learned a lesson that is not taught. This is something that you have
to experience, in order to really understand. The world keeps moving, and you are not
a part of it when you are in prison.

"You only have eating and sleeping to look forward to each day. You incarcerate your whole family because they make sacrifices to try to help you.

"Where are those friends you hung around with? When you return from prison, they are nowhere to be found.

"You only have God to help you bear your burdens, and when you have good parents who still care and support you, this is a great help. My advice to all young people is
to stay clean."

These stories are true. The people are real. Their names are fictitious.

Black History month articles
Written by Susie Sansom-Piper and
published in the Rockdale Reporter
Susie Piper (standing at left) presides over typing class at Aycock High School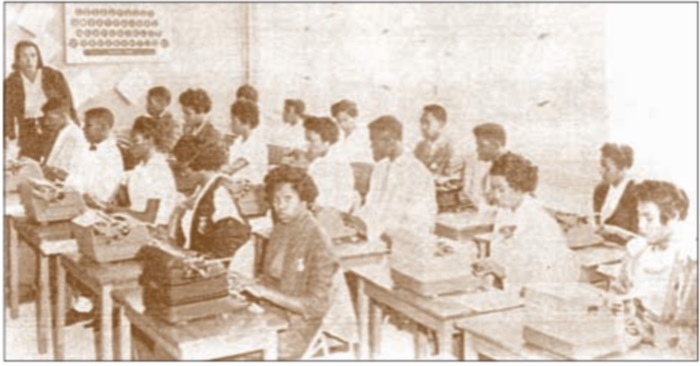 .